Welcome back and as always welcome to some more hot older male action as well. You know how you usually see these older men with lots of 20+ studs? Well this time we decided to switch it up a bit and show you that these old coots are still great at playing with one another as well. Let's sit back and enjoy the scene with this pair that gets to play dirty all afternoon long for your viewing pleasure and the camera. And you do need to check this one out with the two hotoldermale studs playing as they have lots of experience having gay sex and you get to see some pretty unique things done in their scene today. Well let's get started!
As the show begins, you can see that they were going to play in their very comfy bed in the bedroom. Rest assured that the action moves to other places around the room, but the bed is the main tool used. Now that doesn't mean that its bad. Anyway, check them out starting their scene all naked and you can see the bald guy getting to be on the receiving end today. And so, he gets to suck on his buddy's cock with a passion to make sure he has that fat cock all ready for his ass. Then see him getting on top and riding his dick hard style throughout this whole scene. We know you'll love it and as usual there will be more in store next week!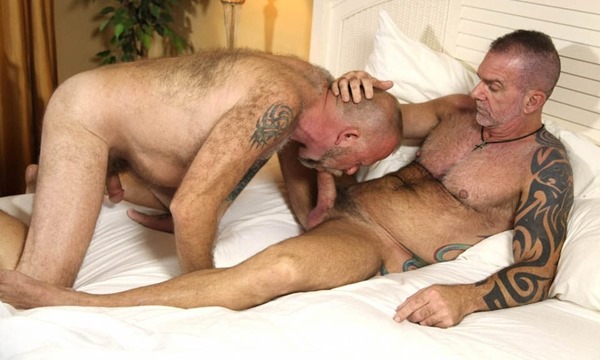 See this old guy receiving an insane facial!