In the next hardcore hotoldermale scene, Brent wakes up early in the morning because he is going to have a long busy day. He planned to go to his summer house and fix the fence and take care of the garden. It is still early when he gets there and he brings out his tools and starts working. After a few hours he feels really tired and stops to rest. Sundance is passing by and spots him. He also owns a summer house not far from there and he stops to change few words with Brent.
Brent invites him inside and brings two beers, then Sundance asks him if he needs some help with that fence. Brent is appreciating all the help he can get and they start to work together. Both older men are tired and they need a break, so Brent goes to bring more beers. Sundance takes off his shirt because is getting really hot outside, and Brent checks up his hot body when he gets back with the beers. He gets a hard on and seeing this, Sundance gets hard in his pants. You ca imagine what is about to happen in this hot older male scene, Brent is going to suck that big daddy cock and Sundance is going to fuck Brent's tight asshole until his cum is dripping out of his ass.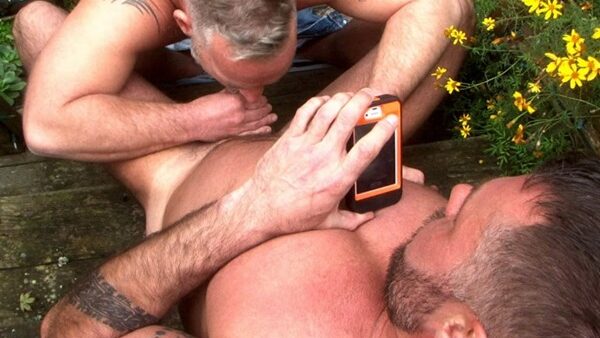 See these horny guys fucking in the backyard!